Backchannels and Scholarly Uses of Twitter
What is a backchannel?
A backchannel is an online conversation concurrent to a specific event, such as a conference or lecture. Backchannels take place on social media platforms such as Twitter, and are similar to the exchanges that occur in person at scholarly or professional events. Backchannel participants may:
share commentary on a presentation or keynote address
share links to related resources
ask or answer questions
provide insight drawn from personal experience
What is Twitter?
Twitter is a social media platform for succinct public communication using brief posts, called "tweets".
Anatomy of a Tweet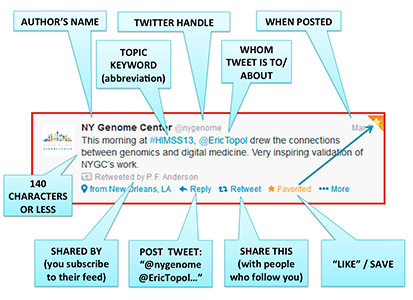 How do people read each others' tweets?
All tweets are public, but there are so many that Twitter will only show you tweets from people you follow (in your Twitter feed) or by searching:
a hashtag
a regular word
a person's name or Twitter handle
What is a hashtag?
A hashtag is a keyword preceded by a hash (#) symbol. Hashtags are case-insensitive, are often abbreviated, and are used to
identify the topic of the tweet (#diabetes)
identify the intended audience of the tweet (#parents)
include the tweet in an online meeting (#medlibs)
include the tweet in a backchannel (#MedEdWk13)
What is a mention?
You can direct a tweet to an individual by including their Twitter handle in your tweet. A Twitter handle appears next to their name and starts with the @ symbol. Clicking "Reply" on a tweet will automatically include the author's Twitter handle as well as those of any others mentioned in the tweet.
What is retweeting?
When someone posts a tweet with particularly relevant information or that you just want to share, you may click "Retweet". This will create a copy of the tweet, crediting the source, that you can post to share with those who follow you.
How can Twitter be used as a scholarly resource?
Twitter's main benefit is in keeping current and engaged in a particular topic, field of study, profession, etc. Twitter can be used to:
Discover and communicate with others who share scholarly interests
Disseminate links to articles on a topic
Engage with other participants at a conference
Meet online with others in a specific profession, specialty, field of study, etc.
Twitter tips for scholarly use
Twitter is not Facebook, and while some people use it to socialize, you will get more out of Twitter if you use the following tips:
Reduce noise in your Twitter feed by being selective in whom you follow
Participate in backchannels at conferences to see who tweets content relevant to you
Find someone who retweets so they can sift through tweets and share the good ones
Reply to tweets to ask questions or provide your own insights
Search Twitter with regular topic words to find commonly used and relevant hashtags
Include "-word" in your Twitter search to exclude tweets with that word in your search
Include "-rt" in your search to exclude retweets in a search
Use "filter:links" to see only tweets that contain links (to articles, resources, etc.)
Twitter Tools
Search Tutorials | Find more about social media / communication / collaboration / conferences / online /